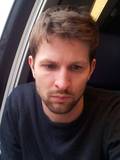 Rony Emmenegger is a Post Doctoral researcher with the Sustainable Development Group at the University of Basel. Rony completed his Masters degree in Human and Economic Geography at the University of Zurich in March 2010. From 2014 to 2016, he was a visiting scholar (SNF Doc Mobility) at the Institute of Food and Resource Economics (IFRO) at the University of Copenhagen. Rony received his PhD in Political Geography from the University of Zurich in 2017, where he continued his research and teaching engagement until early 2019 and where he remains affiliated.
Trained as a Geographer, Rony has a vivid interest in how the Earth and Worlds are governed in politically and ecologically uncertain settings. His research finds intellectual inspiration in political geography and anthropology, critical political ecology and environmental humanities, and history and archeology. Rony builds on extensive ethnographic field research experience both in rural and urban Ethiopia and is dedicated to theoretically inspired empirical research.
In his Master thesis, Rony focused on rural development and decentralization in Ethiopia (Oromia region) and investigated the state-peasant relation and everyday interaction in the field of rural road construction. In his PhD thesis, he explored state formation and the politics of urban infrastructure, demonstrating how law and memories of violence come to persist through materialization within the Ethiopian Somali frontier.
In his ongoing Post Doctoral research, Rony studies the governance of risks in Switzerland and the ways an advancing 'risk society' engages with unruly natures and materials. With his work, he aims at contributing to an inherently political understanding of human-environments relations and to a better understanding of manifold geo-graphical entanglements of state-society-nature relations.
Ongoing Project:
Governance of Risk and Sustainability
Completed Projects:
State Formation and the Politics of Infrastructure
Governing Space and People: Territorialization and State Formation in Urban Ethiopia